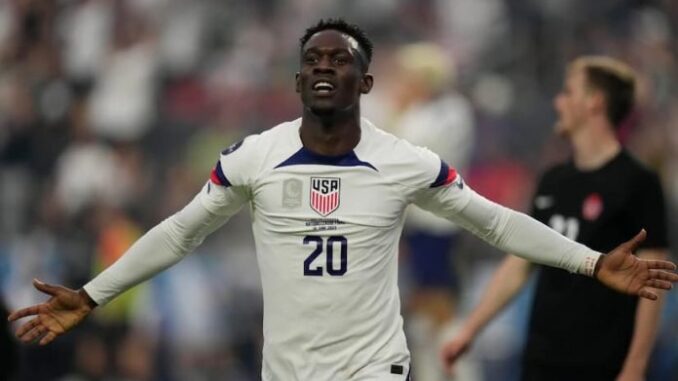 According to the UK Sun, if Arsenal decides to sell Folarin Balogun this summer, they will seek a £35 million transfer fee.
Balogun had a standout season in Ligue 1 while on loan at Reims in 2022–2023, scoring 21 goals.
Although he is expected to return to Arsenal this summer, RB Leipzig, AC Milan, and Inter are all showing interest in signing him.
According to The Sun, Arsenal has set a price tag of £35 million on the striker, who has also been doing admirably for the United States men's national team after opting to play for his country rather than England. According to the article, Crystal Palace has also shown interest in signing Balogun, who is still under contract with the Gunners through 2025.
Balogun has so far earned two caps for the USMNT and scored in his team's 2-0 victory over Canada in the CONCACAF Nations League final. Balogun, who previously left Arsenal for a brief stint at Middlesbrough in 2022, has ruled out the possibility of moving on loan once more.
Although it is uncertain whether Arsenal will receive the offers necessary to allow Balogun to leave the organization, former midfielder Aaron Ramsey has forewarned the Gunners that the 21-year-old has the talent to play for the first team in the 2023–24 campaign.