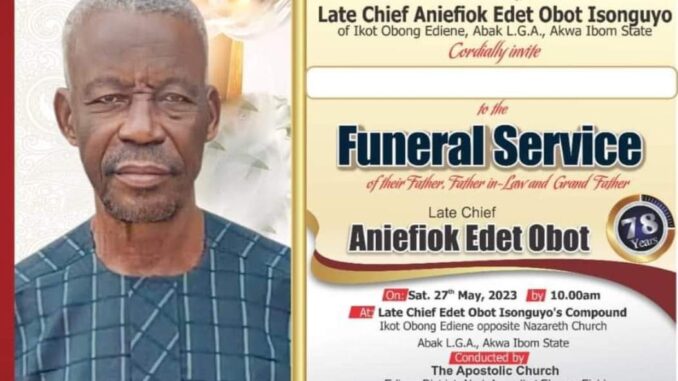 The remains of the retired staff of the ministry of internal generated revenue in Abak local Government council, Akwa Ibom State, Chief Aniefiok Edet Obot will be laid to rest on May 27th, 2023.
A released from the deceased family made it known to newsieevents on Monday 1st May, that the 78 Year old retired staff of the ministry who passed on after a brief illness at the University of Uyo teaching hospital will be buried at his home town in Ikot Obong Ediene, opposite Nazareth church in Abak LGA, Akwa Ibom state.
The released made it known that the funeral ceremony will be conducted by the Apostolic church, Ediene district, Abak area, Ikot Ekpene field.
In a chat with a close ally to newsieevents and a younger brother to the deceased Hon. Uwem Edet Obot described the death of his elder brother the late Chief Aniefiok Edet Obot as a great lost to the entire Obot's family and Ikot Obong Ediene by extension. He said the deceased lived a life of emulation and sterling qualities even beyond the family circle.
According to the furniture maker, " I am what I am today courtesy of my late elder brother, he sacrificed all his hard earn resources to make sure all of us become successful in the family and be productive to the society and that's exactly what we are today"
The philanthropist said the late Chief Aniefiok Edet will be greatly missed especially his numerous contributions to various communities and peace keeping.
Hon Uwem Edet popularly called Uwem Assiàn while praying for the departed soul of the elder brother to find rest, also use the medium to invite friends and relatives well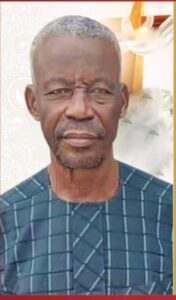 wishers to the farewell ceremony of his brother, which according to him line ups of activities are already queued up including the sing song night on the 26th following the burial on the 27 to pay last respect to the departed hero.