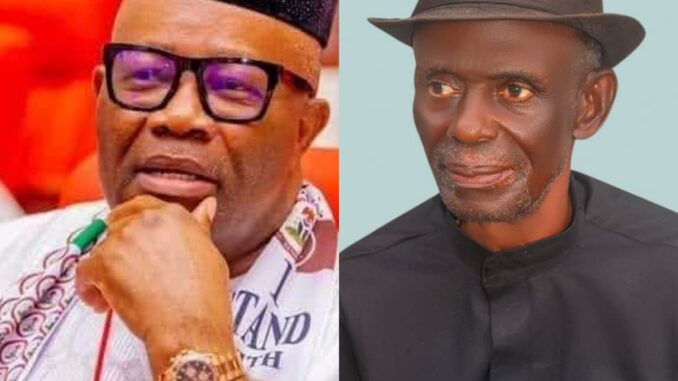 … Describe Akpabio as iroko tree of Annang Nation.
By Divine Sam
A stalwart of the young progressive party in Ikot Ekpene Senatorial District Elder Sunday Jonah Akpanurom has felicitated with the historic inauguration of the former Governor of Akwa Ibom State and former minister of Niger Delta distinguished senator Godswill Akpabio to represent the good people of Akwa Ibom NorthWest Senatorial District at the Red Chamber and by extension leading the leadership of the 10th National Assembly as the Senate President.
Elder Akpanurom said the Emergence of Senator Akpabio as the Senate President isn't coming as a surprise, following his sterling and indefatigable record of achievements and charismatic display of adroit urbanity, stewardship, simplicity, confidence and resoluteness when you were superintending over at various public responsibilities.
"Godswill Akpabio is the iroko tree of Annang Nation, Etangekak, Asuakak adiama" we are extremely and unequivocally thrilled by your prudent and mystifying track record of people's oriented achievements and we are with the prospect of benefiting more from you as we gladly join in celebrating this unique opportunity to serve the nation
I undoubtedly confident that you will bring to bear the legislative cum political etiquette, savoir-faire, zealousness and diplomacy gathered so far to serve as a political savoir-vivre as you metamorphose majestically into the higher legislative podium today.
Certainly you have taken this assignment as a clarion call to national integration, social justice and economic development as well as a challenge to bring out the best in you to serve your people devoid of political prejudice. And we are unswervingly sure you will give the good people of Ikot Ekpene senatorial District a pragmatic, purposeful and effective representation in the floor of the Senate and by extension exercise your duty approximately as Senate President.