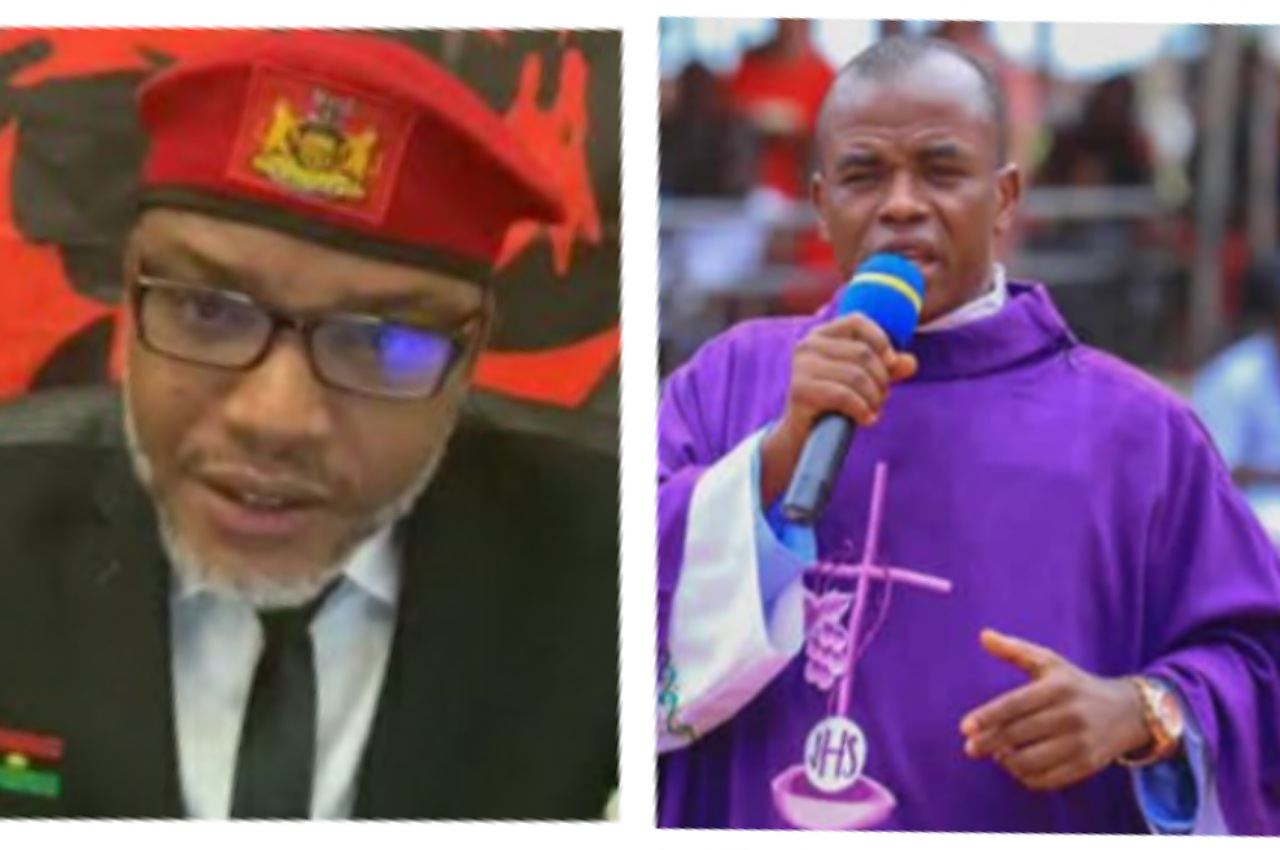 By Newsie:-
Mazi Nnamdi Kanu, Leader of the Indigenous People of Biafra, (IPOB), has asked the Igbos to defend and stand by their brother, Father Ejike Mbaka and ignore the claims by the Presidency that it was because of the contract it denied priest that made him to start criticising President Buhari .
NewsieEvents had reported that the Catholic priest on Friday called on President Muhammadu Buhari to resign for failing to address the lingering security crisis across the country.
While urging the National Assembly to ensure that Buhari is Impeached if he failed to resign, Mbaka declared that the President has failed woefully.
Reacting to Mbaka's call for Buhari's resignation which has generated a lot of controversies, the Presidency, in a statement by Garba Shehu, Senior Special Assistant to the President on Media and Publicity alleged that Mbaka's comment followed Buhari's refusal to grant him contracts after he made the request.
Shehu said the priest had visited the president at the State House demanding contracts as a reward for his support in the 2015 and 2019 general elections.
He claimed Mbaka once brought three contractors to the President and insisted he must be rewarded for his support to the President.
However, Buhari informed him that due process must be followed.
Reacting, the IPOB leader, in a post on his official Facebook page on Saturday urged the Igbo people not to hate their fellow Biafran because of the character assassination of the caliphate.
The post reads: "Rev. Father Mbaka MUST be defended regardless of his perceived faults. Don't allow the trusted character assassination antics of the Janjaweed Caliphate to cause you to hate your own.
"After we subdue the Caliphate we can then come home and allocate blame in-house. Never join outsiders to destroy your own"
NEWSIE EVENTS MEDIA TEAM Follow Us On Twitter: @NewsieEvents, Instagram: newsieevents, Facebook: Newsie Events (Subscribe to our YouTube Page: Newsie Eventsng.