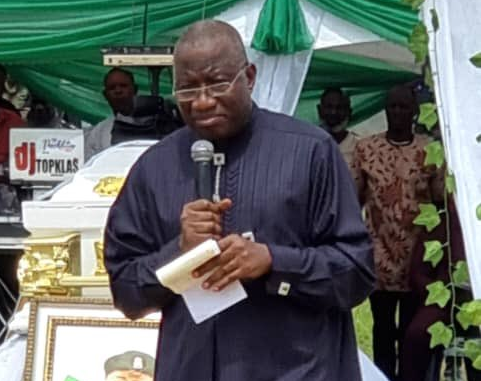 Former president Goodluck Jonathan listed his majorcchallenges in Aso Rock that insecurity gave him "serious headache" during his time as Nigeria's president. He spoke during the commissioning of a 22-kilometre road project in Taraba State.
According to him, he had sleepless nights trying to address the problem.
The ex-president urged the people of the state to live in peace for more development to thrive.
Jonathan, who noted that security is in the hands of the people, expressed happiness that Taraba was gradually returning to the good old days of peaceful coexistence and tolerance.
"When I was the president of Nigeria, the insecurity of the nation did give me sleepless nights. Sometimes even while I am in the church, my ADC will bring a phone to show me how people are being murdered or kidnapped, and that gave me serious headache."
"As I came into the Jalingo airport, I saw the Director of DSS and I quickly asked him 'how is Taraba State security wise?' and he told me 'Taraba is relatively peaceful'," he said.
Jonathan served as the president of Nigeria from 2010 to 2015
The period coincided with the emergence of the Boko Haram sect as one of the most dangerous terror groups in the world with hundreds of people killed and several millions of others displaced by the terrorists in the North-East.
The group also hoisted its flag in several communities in the North-East in a bid to establish an Islamic caliphate in the region.
The high point of the terrorists' crime against was the abduction of 276 students from the Government Girls Secondary School in Chibok, Borno State, on April 14, 2014