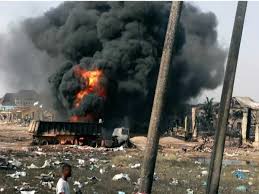 Newsie Events:-–
A bomb has exploded in Okene, Kogi State, killing three persons ahead of President Muhammadu Buhari's visit to the state.
The early morning explosion occurred near the Oyinoyi's palace in the Okene local government area on Thursday.
According to Channels TV, the explosion came a few hours before Mr Buhari's arrival to inaugurate some projects in Kogi.
The explosion caused panic among residents as many scampered for safety.
It was gathered that security agents, mostly from the police's anti-bomb unit, were already at the explosion scene.
More details to come
NEWSIE EVENTS MEDIA TEAM Follow Us On Twitter: @NewsieEvents, Instagram: newsieevents, Facebook: Newsie Events (Subscribe to our YouTube Page: Newsie Eventsng. LinkedIn Newsie Events