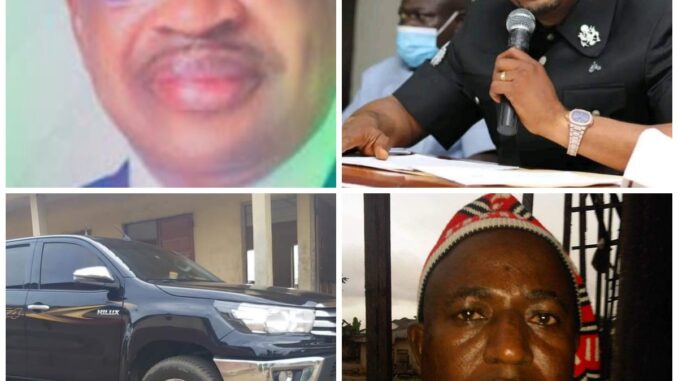 Less than 9 days for Gov. Udom Emmanuel to vacate office as executive governor of Akwa Ibom State, report reaching us is that some of his aids are currently engaging in bloodshed fisticuff over an alleged #15m debt crawling between the governor's aids.
We learnt that one Mr. Udo Ekwere who is said to be the special assistant to the governor on transport and petroleum recently had a public fallout with Mr. Prince Akpan Ikim the chairman of Akwa Ibom State Environmental Protection and Waste Management Agency.
Narrating the misdemeanor between Mr. Ikim and the Special Assistant to the Governor on Transport and Petroleum, Mr Udo Ekwere in a funeral service where governor Emmanuel also attended, a good source told Newsieevents that Prince Akpan Ikim claimed the SA came with some perceived unknown terrorist squad to assassinate him publicly.
Newsieevents earlier discovered that it was on Wednesday Mr. Ikim in convoy of the Governor Udom Emmanuel attended a funeral at Etinan LGA when Udo Ekwere upon discovering where Ikim parked his vehicle, had locked up the front right wheel of the Toyota Hilux, seizing it over, accusing Mr. Ikim Akpan to have indebted to him worth #15m.
According to Mr. Ikim who contact one of our media agencies said "I escaped death when Udo Ekwere and his cult boys attacked me yesterday.  Even if I am owing him, was that enough reason for Udo Ekwere to use his cult boys to attack me? Is Udo Ekwere really a cultist, that he is using cultists to attack me?
"Udo Ekwere will really have to explain himself, why he used cultists instead of the police in an attempt to get me", Prince Ikim said over the phone when he contacted this Reporter.
Whereas, Prince Ikim has confirmed and accepted the debt allegation, had insisted that Mr. Udo Ekwere must tender documents showing how he is owing him in order to back his claims.
Reacting to Ikim's allegation of using cultists to attacked him, Mr Udo Ekwere questioned if his use of wheel clamp to lock the vehicle wheel is cultists. "Is the wheel clamp I used in locking his wheel  the cultists Ikim is referring to? If it is, that's left for him.
"Between both of us, who is the cultist? All I want from him is for him to repay the #15m he has owed me for a long time now", said Udo Ekwere.
On the whereabout of the Toyota Hilux confiscated from Prince Ikim, Udo Ekwere said the vehicle was towed to the State Police Headquarters, Ikot Akpan Abia following due entry made.