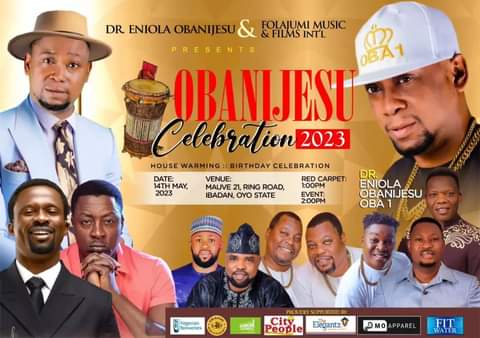 By Divine Sam
Dr. Eniola Obanijesu the CEO folajumi music & films INT'L will be celebrating his birthday with family and friends in grandstyle to the Glory of God, having spent years in the service of God, he called it a journey of His grace.
Obanijesu as he is fondly called will be thanking God specially for the immense blessing that God has bestowed on him.
Various artist have virtually and literally left no stone unturned are already in the city of ibadan Oyo state capital from their based to celebrates a humanitarian in service and a philanthropist in nature by tomorrow
Dr. Eniola has over the years touched the lives of many one way or the other, he has demonstrated over time that God is using him as a vessel to touch humanity. His kindness doesn't end only in his entertainment industry, he has reached out to different souls and intervened where necessary. In his words he said on the reason the his music career is growing from strength to strength is "Actively empowering people with his philanthropical gesture.
As his birthday mega party is coming up on tomorrow 14th May, 2023 at mauve 21 ring road ibadan, starting with the red carpet by 1:pm and the main event by 2:pm his fans and followers have earmarked various programmes to celebrate this icon. .
Obanijesu is one of the most loved musical films artists in a noiseless way with highest followers among social network whose integrity is proved, tested and trusted.