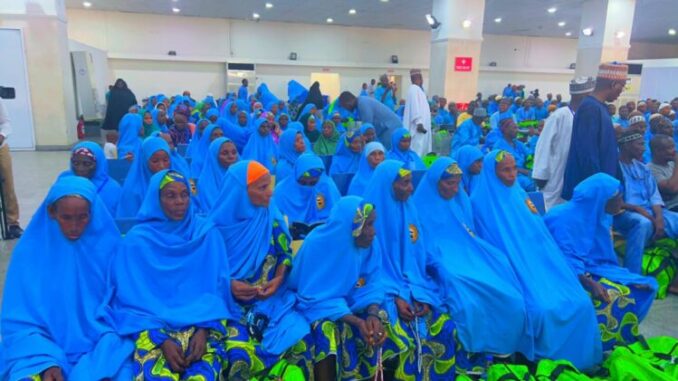 A total of 560 pilgrims from Nasarawa State boarded the inaugural flight operated by a Nigerian airline, Max Air, from the Abuja Airport at about 1:30pm to Medina, Saudi Arabia.
President Buhari, who was represented at the inaugural flight launch ceremony by the Minister of State for Foreign Affairs, Ambassador Zubairu Dada, commended the National Hajj Commission of Nigeria (NAHCON) for the wonderful job they were doing, which culminated in the successful preparations for Hajj 2023.
He appealed to Alhaji Zikrullah Kunle Hassan-led commission not to relent, but to ensure that the welfare of Nigerian pilgrims to this year's Hajj was given utmost priority.
"NAHCON as presently constituted is doing a very wonderful job and the President appreciates what you have been doing since coming on board.
"But he has asked me to urge you not to relent because this be the beginning of the job which is the welfare of the pilgrims.
"Assist them as much as possible to enable them discharge their religious obligations that they are there for. Some of them have never traveled outside of their communities, your role means that the entire live of these human beings have been entrusted into your hands," the Minister said.
The President also charged all officers to take their responsibilities with all seriousness, adding that everything required by NAHCON has been provided by the government and that there was, therefore, no room for excuses.
He advised the pilgrims to be good ambassadors of Nigeria and see themselves as the representatives of Nigeria and Islam.
He also urged them to pray for peace and development of the country while in the holy land.
Speaking earlier, Governor Abdullahi Sule of Nasarawa State, who was represented by the Emir of Lafia, Justice Sidi Bage, wished the intending pilgrims successful hajj and urged them to be good ambassadors of the country.
He equally thanked NAHCON for giving Nasarawa State the opportunity to be the first to fly to Saudi Arabia for this year's Hajj exercise.