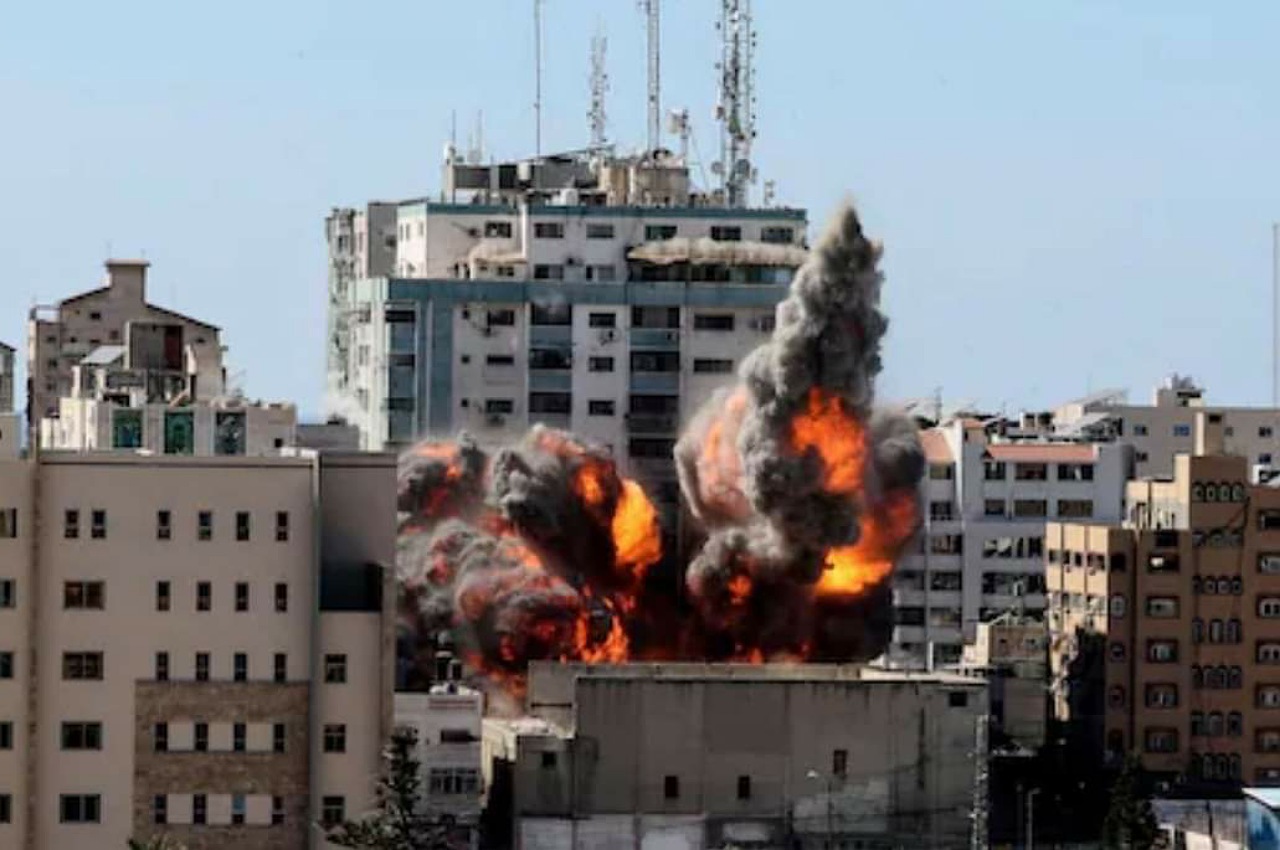 By Newsie ED:-
A high-rise building that housed some international news media organisations was Saturday destroyed by an Israeli airstrike.
It was gathered that the airstrike came nearly an hour after military ordered people to evacuate the building which housed The Associated Press (AP), Al-Jazeera, and other offices and residential apartments.
The owner of the 12-storey building was said to have received a call from the Israeli military in the afternoon, warning that the building would be targeted before it occurred.
Immediately after the warning, the building was evacuated, and no casualty has been recorded, as at the time of filling the report.
The airstrike is the latest amid the current conflict between Isreal and Hamas, an Islamist terrorists group.
Earlier, an Israeli air raid on a refugee camp in Gaza City, allegedly led to the death of not less than ten Palestinians, including eight children.
Two women were also killed in the attack.
The provocation, according to the Israeli army started since Monday night when hundreds of rockets were fired from Gaza towards different locations in Israel. However,
Though most of the rockets fired by Hamas were intercepted by anti-missile defenses, there have been disruptions in Israeli cities.
Isreal, in retaliation, has also fired strikes into the Gaza strip, killing many persons.
At least 139 people have been killed, including 39 children and 22 women in Gaza while about 950 people have been wounded since hostilities flared up on Monday.
In Israel, about nine people have also been killed.
Despite international calls for an immediate halt of all hostilities, Prime Minister Benjamin Netanyahu, in a broadcast address on Friday, vowed that Hamas will "pay a very heavy price" for its rocket attacks on Israel.
Netanyahu said Israel "would exact a very heavy price from Hamas and the other terrorist organizations."
"We are doing so and we will continue to do so with great force," he had said.
The last word has not been said and this operation will continue as long as necessary in order to restore the quiet and security to the State of Israel."
NEWSIE EVENTS MEDIA TEAM Follow Us On Twitter: @NewsieEvents, Instagram: newsieevents, Facebook: Newsie Events (Subscribe to our YouTube Page: Newsie Eventsng.