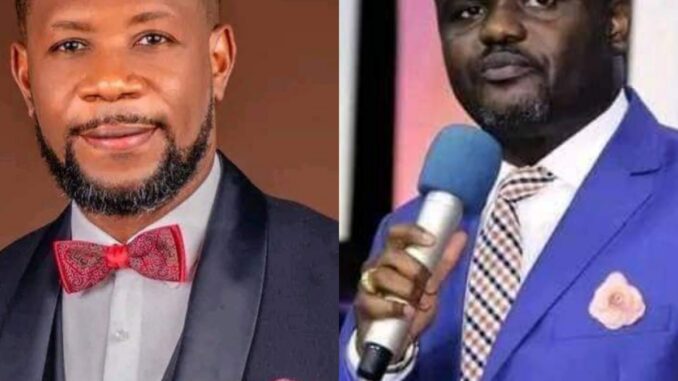 Senior pastor of Holy Ghost Ambassador Apostle Nyeneime Andy and his power city counterpart Rev. Abel Damina are currently trading on warpath and exchanging war of words on accusations of false preaching.
Newsieevents learnt that Apostle Nyeneime the senior pastor and founder of Holy Ghost ambassador ministry located at Ekpanya Street off Ikot Ekpene Road uyo has come alive to respond to some allegedly false messages and teachings by the Snr. Pastor of power City International Rev Abel Damina and threatened to relocate back to Plateau state where he comes from failure to repent from teaching a perceived false gospel on radio and various social media platforms.
The Holy Ghost ambassador Snr. Pastor Apostle in his responses to some false teachings allegedly credited to Rev. Damina on various media platforms said
"Let me warn every pastor blaspheming the name of the Lord, insulting the Lord because of certain satanic revelations and giving honor and glory to satan. Let me warn you, if you don't desist from this demonic teaching, you will have some of us to deal with. If you have no more revelations to bless the body of Christ, please resign. Leave pastoral work. You cannot continue deceiving people in my state. If you continue like this, we will have no other option than to ask you to leave our state and preach this heresy in your own state. Our people will not tolerate you deceiving them any further.
But if you refuse, then you will have yourself to blame. We have been quiet for too long and it is getting worse.
With due respect Sir. Thank you for returning to the you that we knew. You used to bless us with your messages but now we don't understand what you are teaching. Thank you for understanding".
However, there has been series of controversies and mixed reactions by their fellowers on social media.
Follow us up for me update…