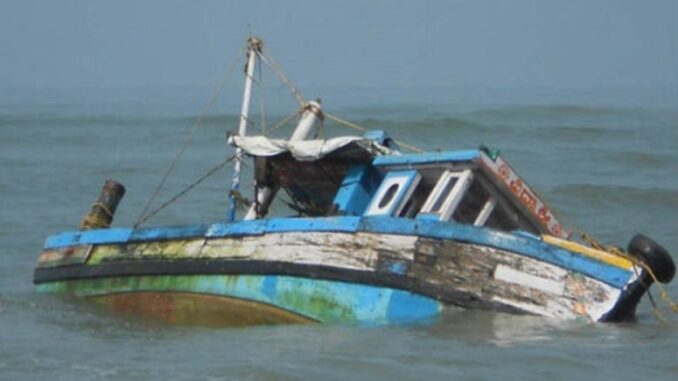 The Nigerian Medical Students Association has blamed the management of Marina Resort over Saturday's boat mishap, where 11 of their members were rescued and three others missing.
The students had converged on Calabar, the Cross River State capital, for the annual NIMSA Health Week and, as part of the activities, decided to visit the resort, where some embarked on a boat cruise.
Addressing newsmen at the premises of the resort, which houses the popular Slave History Museum, the National President of the association, Ejim Clement Egba, said, "This ugly, avoidable and extremely traumatizing incident causing so much anguish to the medical students' community nationwide was as a result of negligence, incompetence and the lackadaisical attitude of the crew members and the management of Marina Resort."
He further explained that the engine of the boat had gone off, and water started to enter the boat at a rapid speed.
"At this point, the boat started sinking and finally capsized," he said.
Egba added that factors that contributed to the mishap included a leaky boat, poor condition and integrity of the vests, poorly maintained engines resulting in the engine going off during the trip, fuel finishing before they got back to shore, little or no supervision by Marina Resort management as well as poor regulation and monitoring.
According to him, the management of the resort was duly informed at which time they could have properly checked their boats and prepared them but failed to do so.
The students expressed annoyance that the management failed in their responsibilities to customers and ought to have been closed down.
Two members of the state House of Assembly, Victor Nsa and Effiong Ekarika, both representing Calabar South 1 and 2, also blamed the management of the resort for negligence.
Governor Bassey Otu, in a statement late Saturday night, decried the safety standards at the resort, vowing that anyone found guilty of having compromised on safety would be severely sanctioned.
"The news of a cruise boat mishap at the Marina Resort, a tourist and relaxation destination in Calabar, is saddening and calls for concern not only as your governor but as a parent.
"To imagine that the boat was overcrowded and some of those on it were without life jackets is of even greater concern and the more reason why the state government will be investigating the incident, and all those found culpable of having compromised on safety standards will face the wrath of the law," he said.
The three missing students were yet to be found as of the time of writing this report 12 hours after the incident.