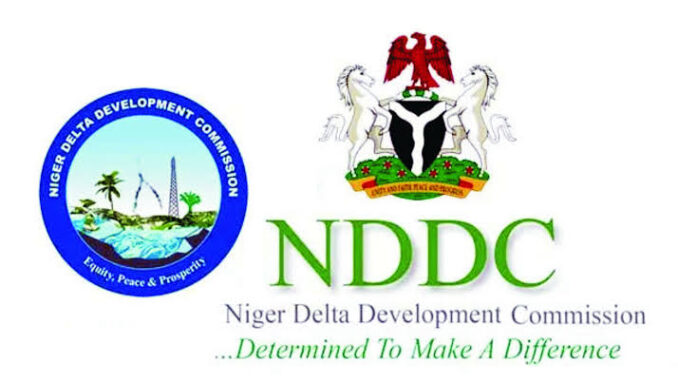 The upper chamber of the National Assembly has fi­nally passed the Niger Delta Development Commission's (NDDC) N876 billion 2023 bud­get.
It would be recalled that some groups in the Niger Del­ta had castigated the Senate for calling for a stand down of NDDC 2023 budget.
The groups said they sup­port beaming the searchlight on the 2021 and 2022 budgets, calling out the managers of those years' budget in view while the 2023 budget should be passed in order for this new­ly constituted board to imple­ment provisions of the budget to meet the aspiration of the people of the region.
From the passed budget, the Senate approved N451 mil­lion as provisions for aides of 12 board members of the com­mission and N576 million for taking care of the Office of the Chairman of the Commission, Laurreta Onochie.
According to the break­down for the office of the chairman, the personnel cost will gulp, N156 million; over­head, N312 million, and inter­nal capital, N108 million.
For the Managing Direc­tor's Office, N546.597 million was earmarked for personnel cost; N747.500 million for over­head cost; N163.504 million for internal capital.
Others are Executive Di­rector, Finance & Adminis­tration Office personnel cost, N133.337 million; overhead cost, N457.465 million, and N163.504 million for internal capital
The Corporate Affairs De­partment of the commission got N1.061 billion from the votes, out of which N431.076 million is for personnel cost, N845.566 million for overhead and N63.081million for inter­nal audit.
In the overall budget of the commission, personnel expen­diture gulps N34.2 billion, over­head expenditure will gulp N17 billion, internal capital expenditure will gulp N3.7 bil­lion, development projects will gulp N490 billion and Federal Government intervention in the Niger Delta, N330 billion.
The revenue sources to fi­nance the budget are revenue brought forward, N5 billion; Federal Government contri­bution, N119 billion; the Fed­eral Government contribution (unpaid arears), N430 billion; oil companies contributions, N297 billion; ecological funds, N20 billion, and other inter­nally realised income, N500 million.
The Vice Chairman, Sen­ate Committee on Niger Delta Affairs, Senator Bulus Amos, presented the report for con­sideration and approval for the budget.
The President of the Sen­ate, Ahmad Lawan, who pre­sided over the plenary, in his remarks after the passage said that the exercise was very ex­pedient in order not to let the people of the region suffer from further delays.
Sixteen out of the thirty member committee signed the report, considered and ap­proved by the Senate.