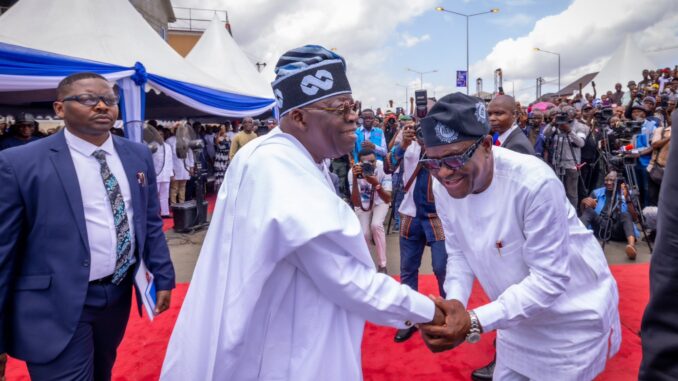 Newsie Events:–
President-elect Bola Tinubu has promised to work evenly for the country without marginalising any part in areas of development.
Mr Tinubu, who will be inaugurated as president on May 29, stated this on Wednesday in Port Harcourt, the Rivers State capital.
This was made known in a statement on Wednesday by the spokesperson for the Office of the President-elect, Abdulaziz Abdulaziz.
The president-elect, on a two-day visit to the state to inaugurate projects executed by the Rivers state administration, also praised the state governor, Nyesom Wike, for infrastructural achievement and political support.
"I will not marginalise any region, but will leave legacy projects across the length and breadth of Nigeria,"  he said at the opening of Rumuokwuta/Rumuola Flyover Bridge.
Mr Tinubu praised Governor Wike for the development strides in Rivers State, particularly for the 12 flyovers constructed across the capital city, saying posterity would kindly remember him.
He stated that Mr Wike's achievements in the state would be remembered fondly by posterity.
On the political front, Mr Tinubu thanked Wike and the people of Rivers State for their support for him, noting that Nigeria would require the outgoing Rivers governor in more senior positions.
He said he was in the state in line with the promise he made during the campaigns in Rivers, saying, "if you make a promise, you keep it.
"I will never forget the pivotal role the great and wonderful people of this state played in my victorious campaign to become the next president of this country. You have my eternal gratitude.
"In His Excellency, Governor Wike, I see a man of principle. He took a principled stand that the presidency should be returned to the South; and he had the courage to stand by his convictions, not minding whose ox was gored.
"He is, indeed, a man of great integrity. He did not choose to serve his own interests, rather, the interests of the nation and the people of Rivers State. I thank him for his selfless leadership," he added.
In his speech, Mr Wike said the invitation for Mr Tinubu to commission projects in the state was a fulfilment of a promise made during the President-elect's campaign visit to Rivers.
He expressed appreciation to Mr Tinubu for agreeing to visit Rivers State and perform the commissioning.
NEWSIE EVENTS MEDIA TEAM Follow Us On Twitter: @NewsieEvents, Instagram: newsieevents, Facebook: Newsie Events (Subscribe to our YouTube Page: Newsie Eventsng. LinkedIn Newsie Events