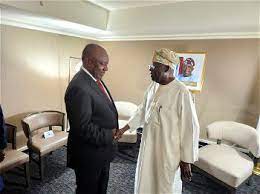 President Bola Tinubu has met with South Africa president, Cyril Ramaphosa as part of his bilateral engagements ahead of the 78th United Nations General Assembly (UNGA) in the United States of America.
In a statement on Monday, Ajuri Ngelale, Tinubu's spokesperson, revealed that the two leaders held a fruitful discussion.
"H.E. President Bola Ahmed Tinubu has held a very fruitful, cross-sectoral discussion with South Africa's President Cyril Ramaphosa as the first of many bilateral engagements with counterparts from multiple continents in New York City, ahead of the UN General Assembly," Ngelale tweeted.
Remember that the presidential spokesperson had previously stated that during the UNGA session, which would be held in New York from September 18 to 26, Tinubu would engage in bilateral talks with an emphasis on investments and economic development diplomacy.
Additionally, Tinubu and Vice President Joe Biden of the US are slated to speak.
Ngelale listed additional world leaders who would communicate with Tinubu, including President of the European Union Commission Von der Leyen, President Azali Assoumani of the Comoros, Prime Minister of the Netherlands Mark Rutte, King Abdullah II bin Al-Hussein, President Abdelmadjid Tebboune of Algeria, President Luiz Lula da Silva of Brazil, and Prime Minister of Spain Pedro Pérez-Castejón.