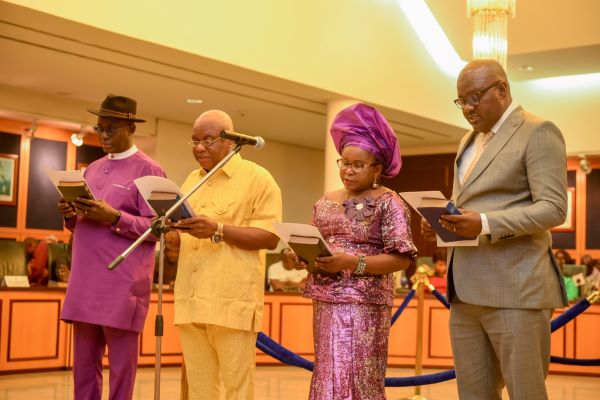 Governor Siminalayi Fubara has explained that he reappointed some commissioners from the cabinet of his predecessor, Nyesom Wike to consolidate on the performance the previous administration and ensure continuity.
Fubara said this while assuring that that his administration will achieve more development for the State with the calibre of persons being appointed into his government.
He spoke during the swearing -in of nine new commissioners at the Council Chambers of the Government House, Port Harcourt on Friday.
The Governor said engaging officials who served in the previous administration aligns with the vision of continuity and consolidation.
He urged them to see themselves as part of the formidable team put together to constitute what he called 'a full system' that is determined to provide better governance to Rivers people.
The Governor added that there are huge expectations of Rivers people on his administration and he will not disappoint the people.
Funara added that the new commissioners were already familiar with the tenets of governance and as such should "consider their appointments as an opportunity to deploy their wealth of experience in the service of the state."
He therefore urged them to be proactive in contending with issues of bureaucratic bottle neck which is the bane of public service, and enjoined them to work hard to improve the quality of service delivery to the people.
The Governor who congratulated the new commissioners on their appointments emphasized the need for "effective communication, commitment and defense of the state in any particular matter."
The new commissioners include, former Chief of Staff Government House Port Harcourt, Engr, Emeka Nwoke, Barr Inime Aguma, Nwafor Uchechukwu, Kenneth Chisom Gbali, Henry Ogiri, Dr Jacobson Nbina, Engr Charles Amadi, Dr Roseline Adawari Uranta, and Barr Christopher Green.
However, Dr Mrs Adaeze Chidinma Oreh (nee Odili) daughter of Dr. Peter Odili, former Governor of Rivers State who was one of those screened for appointment was absent during the swearing in at Government House