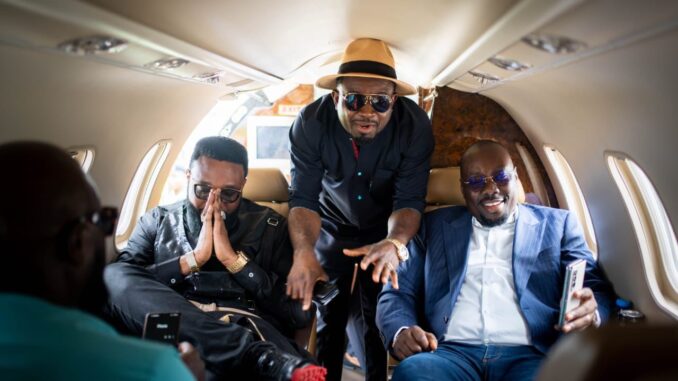 Top Nigerian businesspeople and celebrities Obi Cubana, Emoney, the "Prime Minister" of the Cubana group, Lucky Luciano, Ned Okonkwo, the real estate mogul, Capital Luxury Ambassador Ini Edo, Hilda Baci, and others went on a three-day getaway to the Capital Luxury Villa, which was hosted by the CEO of the Capital Luxury Group Edidiong UdoIdiong, which helped business tourism. Celebrities congratulated Pastor Umo Eno, the Governor of Akwa Ibom State, at his inauguration dinner earlier in the day.
Capital Luxury Global Resources is a multifaceted and prestige company with a commitment to providing unlimited luxury products and services. As a global luxury group, the company deploys innovative and creative energy to bring luxury into all aspects and serve customers and clients better, delivering luxury in Automobiles, Hotels, Entertainment and Destination Tourism Transportation , Road Construction and Real Estate.
They led a tour of the Victor Attah International Airport's freshly opened Maintenance, Repairs & Overhaul (MRO) facility. There, they praised the state administration for finishing the ambitious project that would turn the state into an aviation powerhouse in the West Africa sub-region and expressed their admiration for the facility's outstanding quality.
In his remark , "the CEO of Capital Luxury, stated that the facility is state of the art and would enable  aviation business to thrive. "Apparently , it will encourage CAPITAL LUXURY AIR fly more clients conveniently into the state and at large"
They also conducted a tour around the Capital Luxury  Customer-Centric Facility and Bus Terminal located at no 18 Itam Street, the transportation arm of the company . In his remark, Obi Cubana hinted it is a one stop shop for a broad spectrum of businesses across the country and would love to do  more businesses with the Capital Luxury Group.
E-money noted that the buses are of good quality and have provided flight options for his road excursions throughout the years as he boarded a Capital Luxury Transit Bus. He also remembered how inconvenient bus travel used to be, and how Capital Luxury Transit has made it completely convenient. He said he will always prefer Capital Luxury Transit. They all praised Mrs. Eme Edidiong UdoIdiong, Vice President of Capital Luxury, and the CEO for a job well done.
Meanwhile, Capital Luxury Group has signed a business deal with Cubana Group to become the sole distributor of Odogwu Bitters and other related products, in Nigeria's South-South states of Akwa Ibom and Cross River respectively. The deal was signed at Capital Luxury Villa and puts the brand in a pole position to market the luxury drink to patrons and new consumers.
Capital Luxury Villa was designed and built by Capital Luxury Homes for tourists who are seeking a high-end travel experience. The resort provides privacy, space, and luxury amenities than traditional hotels, giving tourists the chance to enjoy a luxurious home-away-from-home experience with concierge services, daily housekeeping, private chefs, providing a personalized and comfortable travel experience, vacation home rental, including private tours, transportation, and other high-end services.