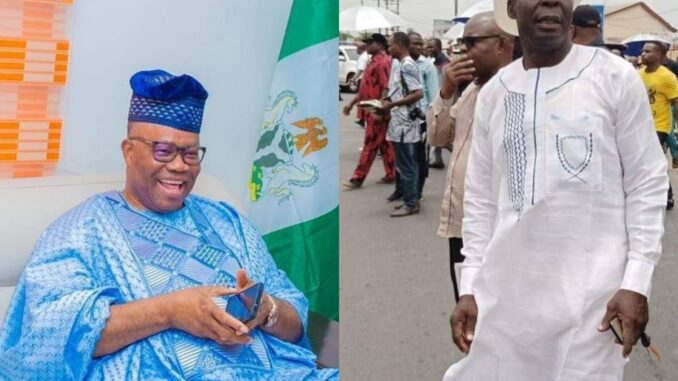 A furniture maker and One of the strongest bigwigs of the people's Democratic party in Abak federal constituency under Ikot Ekpene Senatorial District  Hon Uwem Edet Obot has congratulated  the historical emergence of former minister of Niger Delta distinguished senator Godswill Akpabio on his Emergence as the 10th Senate President of the Nigerian Senate.
The furniture maker popularly known as Uwem Asian in his message of felicitation to the former governor of the state said " I join with the incumbent executive governor of Akwa Ibom State His Excellency pastor Umoh Bassey Eno to celebrates the great son of Akwa Ibom State and Senator representating Akwa Ibom North West Senatorial District, distinguished Senator Godswill Akpabio as the Senate President of Nigeria, this is historical in the book of record that an Akwa Ibom man climbs to this rank at the National level.
His landmarks achievements and his uncommon legacies while serving as executive governor of Akwa Ibom State are enough evidence of his ability to deliver on this new assignment and we have no argument over his zealous character and go-getter spirit to attract more dividends of democracy to Ikot Ekpene Senatorial District and Akwa Ibom State by extension.
The philanthropist furniture maker while extolling the leadership qualities of the Senate President, Senator Godswill Akpabio also called on him to work assiduously for the collective interest of the state against party affiliations.
He said " while wishing you all the best as you take over the mantle of leadership of the 10th Senate, congratulations once again your Excellency"