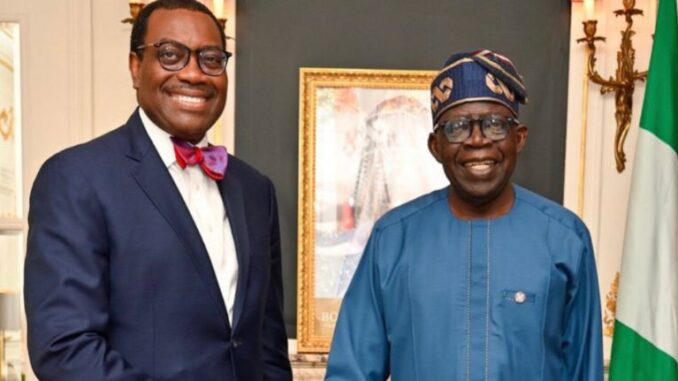 The African Development Bank (AfDB) President, Dr Akinwumi Adesina, has pledged the Bank's support toward revamping Nigeria's economy.
Adesina, made the pledge during a meeting with Nigeria's President, Bola Tinubu at the New Global Finance Pact Summit in Paris.
The AfDB president, via his verified Twitter handle, @akin_adesina said: "I had a great meeting with president Tinubu during the New Global Finance Pact Summit in Paris.
"I was impressed by his commitment to bold and sound policies for Nigeria's economy. The AfDB will strongly support his vision for the Nigerian economy."
Adesina and the AfDB were praised by Tinubu for their 520 million dollar investment in the Special Agro-processing Zones Program, which was said to be the largest of its kind in Africa.
The Federal Government would continue to give the essential assistance for the Bank's initiatives and operations in Nigeria, he told the AfDB president.
The Bank has 48 operations in Nigeria, with a commitment value of 4.2 billion dollars, according to the News Agency of Nigeria (NAN).
Ninety percent of the portfolio is made up of national (Federal and States) operations, with 41 projects totaling $3.79 billion, while ten percent is made up of international operations, with seven projects totaling $0.41 billion.
24 Sovereign Operations constitute $2.36 billion, or 56% of the total commitments, while 24 Non-Sovereign Operations equal $1.84 billion, or 44%.
A mapping of the portfolio to the High 5s shows a balanced distribution. Industrialise Africa has the highest share (45 per cent).
This is followed by Improve the Quality of Life for the people of Africa (18 per cent), Light up and Power Africa (14 per cent), Feed Africa (13 per cent), and Integrate Africa (10 per cent).
Also, the performance of the Bank's public sector portfolio in Nigeria has been satisfactory.