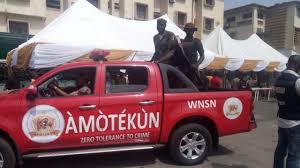 Nigeria, by social status, is known as a secular state; that is, its constitutional provisions are devoid of religious affiliation or interference. As such, it is the secular Federal Republic Constitution, that is, the 1999 Constitution, the only legal document that can be used to govern the country and adjudicate the legal matters involving individuals or the state.
But in flagrant disregard to the statutory status of the country, in 1999, Ahmed Yerima, a former governor of Zamfara state, introduced an Islamic document known as sharia law to govern his state. No sooner he did this than eleven states from the core North filed behind him. Thus, the country was plunged into social and constitutional crises. The attendant ethno-religious crisis claimed thousands of lives and unquantifiable properties. This was as a result of an arbitrary display of impunity in high places.
The same Yerima who brokered the constitutional confusion that culminated in a wide-scale ethno-religious crisis, after governing his state for eight years, became a senator representing Zamfara West. He was equally made deputy minority leader in the Senate. Little wonder we are stuck in the quagmire of maladministration whose corollary is our underdevelopment socioeconomically. People of mean character and disposition, who are supposed to be ostracised and quarantined, often find their ways to the corridor of power.
Pursuant to the introduction of sharia legal system in the core North, Kano introduced sharia police outfit known as Hisbah. Both sharia legal system practiced in parallel to the Federal Constitution in those states and Hisbah is extraconstitutionally allowed without anyone raising an eyebrow. Why then should the introduction of Operation Amotekun become an over flogged issue, drawing flaks from the northern elites?
The northern youths and Miyetti Allah alike are spitting fire and brimstone over the introduction of Amotekun.
The latter went as far as warning that if the Western Region did not jettison the idea of the security outfit, the zone would not be considered for presidential slot come 2023. But who are the Miyetti Allah among the comity of people? They are nondescript cow Fulanis who are more or less societal fodder and hobbledehoy. Nigeria has indeed become an Alice in Wonderland that's why the primitive and analphabetic herders, who spend the better part of their lives in the fields or forests, can consider themselves relevant in the scheme of things politically.
The core north is the bane of our political and economic developments. While the region is virtually unproductive, it claims superiority over the other regions, and it always flexes its muscles to show it without inhibition.
If the North has the effrontery to practice sharia legal system extraconstitutionally, if it can initiate the sharia police and make it operational, the South West can as well forge a security outfit it deems right to secure lives.
NEWSIE EVENTS MEDIA TEAM Follow Us On Twitter: @NewsieEvents, Instagram: newsieevents, Facebook: Newsie Events (Subscribe to our YouTube Page: Newsie Eventsng. LinkedIn Newsie Events